Info
This toy is always in the 
Office
 though Each Night, Like the Cupcake from FNaF, this has Eyes and a Burger looked body.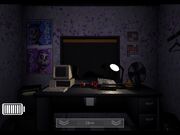 Also while playing through your Nights, sometimes a Tune like sound can be heard in the background, and the noise is loud is it may be coming from this Burger toy, as in the Drawing in Cam11, has a drawing of the Burger, and what looks like is Musical Notes coming out of it, but so far it is Unknown if this is causing the Tune.
The Burger sits behind the Fan on the right side of the Office.
Appearance
This has a Burger body, looks like any average Burger, which has the details of: Lettice, Tomato, Cheese and Etc.
The Burger which also has big round eyes, with curved eyes lids and no eyelashes or eyebrows.
The appearance resembles also to the name of the Building, "Candy's Burger and Fries"
Theroies
The Burger could belong to either Candy The Cat, Cindy The Cat or Chester but may be Unlikely for Chester, but couldn't belong to Blank or Old Candy as they are out of order, and Blank dosen't have any hands.

The Thank You image released on Emil Macko's blog confirms that The Burger belongs to Candy.