"Uh, junior manager here. Uh, so you're the new security guard, right? Yeah, i-i-it's great to finally have someone qualified for the job you know."  - Phone Guy welcoming Mary.
Information
Candy's Burgers and Fries is a family-friendly location that was opened a day after the Toy Animatronics location of Freddy Fazbear's Pizza had closed its doors. A new set of animatronics now entertain children and adults alike while the company provides the titular fast food. 
The mascot of this restaurant is the titular Candy the Cat, along with his sister Cindy the Cat, a monkey called Chester and a robot kids can draw on named Blank. There are also two other sealed-away robots named
RAT
and
CAT
, who are presumably the previous mascots of Candy's, plus an older model of Candy himself. However, during the night, the robots come to life and attempt to kill the protagonist. Can you survive Five Nights at Candy's?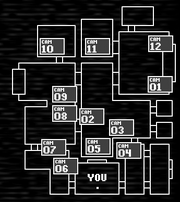 History
The animatronics themselves had a dark past, as the poster on Parts & Services room (CAM10) states that a set of twins were killed in an incident at the Robot Factory.
The Reverse Puppet (which has a similar appearance to the Puppet from the second installment of Five Nights at Freddy's) appears in the game, but with the feature of a depressed or sad/angry face (leading to the alternate naming of Sad Puppet). Instead of a smile and a bright look, this Puppet has blue cheeks and a blue lip feature. The Puppet, similarly to his Freddy Fazbear's counterpart, has brought children back to life as animatronics, causing animatronics to stare blankly at adults, similar to events that previously occurred at Freddy's.
Summary
"No company is without a rival. Freddy Fazbear's New Pizzeria has closed for good. And so, another restaurant is going to take its place in the world of entertainment. What could go wrong?"