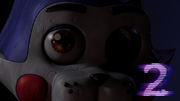 Story (FNaC2)
The game follows Marylin Schmidt, a 17 year old girl who has lost a bet to one of her classmates sometime in August of 2007. Since she has lost the bet, she must stay five nights at a dilapidated factory formerly owned by Rowboatics Corporation, which was closed down due to murders happening inside the factory. However, all of the robots that the company made were sent back to the factory, and that includes the animatronics from Candy's Burger and Fries.
On the fifth night, the factory is set for demolition after the recent events of the previous nights.
After the sixth night, before the demolition, the factory has completely burned down, leaving nothing but rubble.
More coming soon.
Ad blocker interference detected!
Wikia is a free-to-use site that makes money from advertising. We have a modified experience for viewers using ad blockers

Wikia is not accessible if you've made further modifications. Remove the custom ad blocker rule(s) and the page will load as expected.